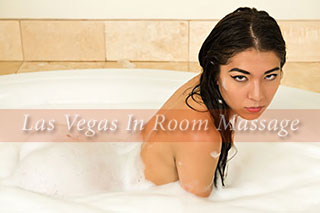 The power of touch can be extremely invigorating. The use of warm temperature can make the experience even better. Mix the two and you have a session of pure bliss coming your way. Our ladies love giving clients massages....and this can be accomplished with water and soap! Here are some reasons why a good soapy massage from one of our beauties is just what the doctor ordered.
Your Massage Artist Will Be Absolutely Stunning
If you are going to be spending time with someone in a bathtub, you may as well make sure she is pleasing to the eyes. No one wants to be in a vulnerable situation with a person who doesn't draw you in with their attractiveness...especially when they are completely nude. Take a look at the gorgeous women who provide massage services directly on our website. You'll have the opportunity to read more about each one and check out their profile photos. Think about what a particular woman will look like in your bathtub. Does this thought get you excited? If so, do you want her to touch you and give you a massage you'll remember for a good long while? Great! Now book a session with her and find out what is in store!
Relaxation Is At Its Best
When you add the power of warm temperatures to your body, you'll instantly feel a sense of relaxation seep in. A warm, soapy bath will rejuvenate your spirits and leave you feeling well-rested, even if you had a stressful day. With a massage artist with you, you'll sink back and allow all the warmth of the water and her close body let the stress dissipate. Bring along a bath pillow, put on some soft music, fill up the tub with the soapiest water possible, and sink on in with your partner. You might even find that you doze off for a bit because of the warmth and comfort. Your date will wake you...don't worry.
Laughter Helps To Relieve Stress
Getting into a soapy bath of water doesn't sound like something that could make you laugh, at all. But, when you get in with a partner, there's sure to be some need to shift around to make room for each other. Body parts will be rubbing against others and it could be an awkward experience at first. With this awkwardness, however, comes humor. You'll laugh at trying to squeeze into a tub together, and your partner will do her best to accommodate your needs. Laughter is often the prelude to more. We can't elaborate on what exactly could happen in a bathtub...that is totally up to you both to figure out on your own. We are sure you'll enjoy though!